Boo Mama is hosting her annual Christmas Tour of Homes and I thought I would join in this year and show you some Christmas crafts we enjoy.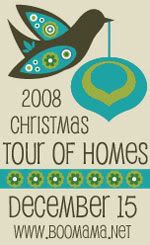 We love to make these cute little treats at Christmas time. They are very simple to make and fun to eat!
Ingredients:
Hershey's Kisses
Almond slices
chocolate chips (for melting)
cherries (with stems)
Dip the cherries into the melted chocolate and stick a Hershey's Kiss on to form the head and body of the mouse. Before the chocolate has a chance to harden, put two almond slices in for the ears. Use decorator's icing for the eyes. Or leave them off if you prefer your mice blind.
Notice the matching Christmas pajamas? Another tradition. I make these and wrap them up for them to open on Christmas Eve. Then, in all of the Christmas morning photos when they are all sporting a raging case of bed head, at least their pajamas look good.
This is my Christmas tree skirt. I started it when I just had 2 small children. Every year I trace each child's hand onto a piece of felt. Then I stitch the name and year and sew it with a blanket stitch onto the skirt. One of these days I'll need to add another layer to the outside edge to have room for more hand prints. I love to look back at how each child has grown.
This is our annual gingerbread decorating party. (I'll be posting details about constructing the houses for this week's Works For Me Wednesday.)
I taped freezer paper to the table and drew a little neighborhood. Then, I scattered candies and markers on the table and gave everyone some icing on a piece of wax paper to use for attaching their candies.
We award honors to each house. The above house won Grand Prize. Notice the little bridge with licorice hand rails. The one below won Best Interior Design. It even had furniture!
Below is the winner for Best Landscaping. Do you see the swing set?
Make sure to see my post about this year's
Gingerbread House Decorating Party
. We had 15 participants and a rockin' good time!
For more Christmas cheer, click on the "Christmas Tour of Homes" button at the top of this post, and you will be directed onto the Boo Mama train that will lead you right straight to Whoville (after the Grinch repents, Silly!)